In response to rapid progresses and improvements of MC equipment, cutting tools, and peripheral equipment in terms of capability and performance, we have been developing proprietary machines and equipment dedicated to micro-processing, together with technology to incorporate high performance equipment into an optimum system for a specific purpose.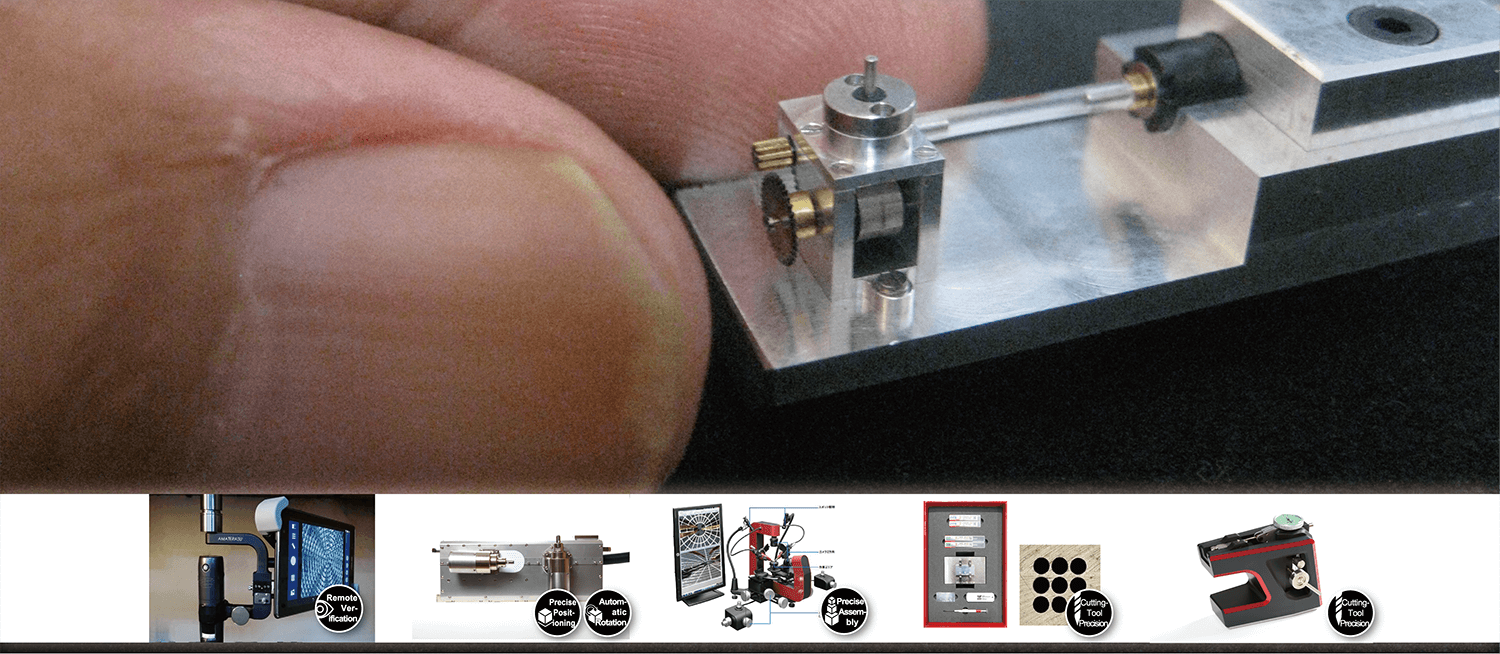 Through these activities, we continue to expand applicability of MCs in the domain of micro-machining, thus contributing to dissemination of the leading-edge processing technology and revitalization of the manufacturing industry as a whole.
(Micro Cutting R&D is a brother company of Iriso Seimitsu Co., Ltd.)
---
MEDIA / NEWS
▼ Sept 23, 2020
"Micro Parts Market" is now open! We only make small-sized machined-parts that ants can carry!!
https://www.bisai-cutting.com/micropartsmarket/
Unlike other online shops, we ask you to fill out a CONTACT form if you are interested, and we will send you estimate including tax and shipping charges, depending on your shipping address. We are open to custom-made requests.
▼ Sept 23, 2020
Fusion of Rubik's Cube and Japanese Technology Rubik's X MegaHouse X Iriso "Ultra-Precision Miniature Metal Rubik's Cube"
Of course, you can play with this 0.9cm Metal Rubik's Cube! Please visit our Japanese website. English site coming up soon.
http://iriso-seimitsu.co.jp/
▼ April, 2020
Interview article of Kiyokazu Saito, president of Iriso Seimitsu and chief researcher of Micro Cutting R and D, appears in April version of monthly magazine "Kikai Gijutsu (Machine Technology)", in Japanese.
▼ Jan 28, 2020
Nikkan Kogyo Shimbun "Iriso Seimitsu Develops Position Measurement Device for 0.1 Micrometers"
▼Sept. 2019
Vertical 3-axis Double-wrist Robot inside Machine Center "ORIGAMI-01" Launched
▼July 2019
Vertical 3-axis Double-wrist Robot inside Machine Center "ORIGAMI" and ATC Spindle Camera exhibited at IGA INOVATION DAY of DMG MORI CO., LTD.
▼June 2019
Micro forceps developed for Medical Support Robots to prevent infection adopted
▼May 2019
Nikkan Kogyo Shimbun newspaper introduces Iriso Seimitsu Co., Ltd. as one of noteworthy small companies to develop new precise technologies.
▼December 2018
Special Issue of FORBES JAPAN lists Iriso Seimitsu and Micro Cutting R&D as "Spotlighted Start-up Companies in Japan"
---
What is iMC research that would lead to micro-machining?
What is iMC Integrated Machining Center?
A system to fabricate a product by means of integrated and composite management of conditions and phenomena related to the machining center in order to effectively control data-driven machining technology to its (minimum-level) limitation
We actualize precision micro-machining in invisible size by measuring and monitoring related conditions and phenomena, such as precision positioning of a material and physical characteristics of a cutting tool, to an extent and level not ordinally palpable, thereby controlling relevant external factors.
We are committed to leading technological innovations in the manufacturing sector by transforming a small town factory to a leading-edge technology development center. The key element is the machining center that has excellent processing capabilities, such as a high degree of adaptability to a wide variety of materials and quick machining time.
PROJECTS
When technology is developed to allow commercial manufacturing of microscopic parts that was thought to be far beyond our technical capability, what innovations will occur in production for a variety of industries, such as medical service, space technology, and IT?
We believe that making a breakthrough in the product design and development – by transcending a boundary or limitation that was previously impossible to overcome, thereby contributing to creation of a new, exciting product or service – starts with technological innovation at small factories.
PRODUCTS
Generally, it is believed that micro-machining requires highly costly and delicate operation and management together with a large-scale production system.
Micro Cutting R&D challenges this misconception in belief that small town factories, which serve as the core of industrial production, are capable of playing a vital role in the next-generation machining process. Through a firm commitment and support, we have been developing the series of machines and tools to support micro machining, which can be easily implemented by small town factories.
Conceptual Diagram of Products

For product details, please see Iriso Seimitsu home page.
http://www.iriso-seimitsu.co.jp/machining.html
Micro Cutting R&D
Micro Cutting R&D's mission is to develop and disseminate new techniques and skills in the sub-millimeter class micro machining to industries in the world.

Through research and development on technology that could bring innovation to sub-millimeter class micro machining, we propose and provide a series of products that serve as practical solutions (iMC) as well as consulting and training services.
INQUIRY
Feel free to contact us for inquiries, including estimates, demo, and visit requests.
・Introduction of micro cutting and manufacturing system
・Development of micro cutting and manufacturing system
・Micro cutting methods utilizing micro cutting and manufacturing system
etc.
Micro Cutting R and D is a research branch, and a brother company of Iriso Seimitsu, Co., Ltd.
Phone: +81-4-2934-4650, Fax: +81-2934-4630
4-6-7 Sayamadai, Iruma-shi, Saitamaken 358-0033,Japan
(Google MAP)